Commercial waste is any waste produced by a business on its premises. So, whether you run a trade site, an office, a recreation centre, educational premises, or an entertainment establishment — all the waste produced by these places is classed as commercial.
Business waste also includes that resulting from construction, agriculture, industry, and demolition.
There is often confusion around what waste types fall under the commercial category.
Any waste produced by a business — including (but not limited to) paper, cardboard, cans, retail packaging, and food wrappers — is commercial waste.
For this reason, it legally has to be discarded in a certain way. You cannot, for example, take commercial waste home to dispose of in your domestic bins.
Keep reading to learn more about commercial waste removal, the responsibilities businesses have regarding business waste, and how to legally control your waste.
What responsibility do businesses have for commercial waste?
As a business, it is important to recognise the considerable level of responsibility you have regarding waste disposal.
Not only is it illegal to wrongly dispose of your commercial waste, but it can also have a detrimental effect on the environment.
When waste is not collected, sorted and disposed of properly, it can end up being fly tipped or in landfill sites.
When waste and recycling begins to build up at landfill sites, the environment suffers — through a combination of earth, water, and air pollution.
Alongside our physical environment becoming damaged, wildlife suffers too — both on land and in the ocean.
So, it is important to dispose of your waste correctly and through a reputable waste management company.
How to dispose of commercial waste correctly
Below are some ways businesses can control their waste while adhering to government guidelines.
Keep waste to a minimum
The best way to control your commercial waste is to recycle as much as you can. This is also cost effective for your business as it costs you less to recycle than to dispose of waste via landfill.
A great idea is to have bins inside your establishment specifically for recyclable goods, including plastics, paper, and cardboard.
By doing this, you can separate all your commercial recycling waste before it is collected.
Speak to your waste management company about recycling and they will provide a mixed recycling bin or individual bins for both outside and in, as per your requirements.
Eighteen million tonnes of food waste ends up in landfill annually, so it is crucial to work on reducing food waste in your establishment if you produce this waste type and haven't done so already.
Food-related businesses could set up food banks or utilise designated food waste bins that will contribute to helping tackle the issue.
Alongside recycling, reusing some of your waste is a great way to help the environment and avoid landfill.
If you run an office, for example, your team could use some old lunchtime soup tins to create stationery storage and organisers.
On a larger scale, could you reuse some of the waste streams you produce to create a new product altogether? Consumers love buying recycled and upcycled goods.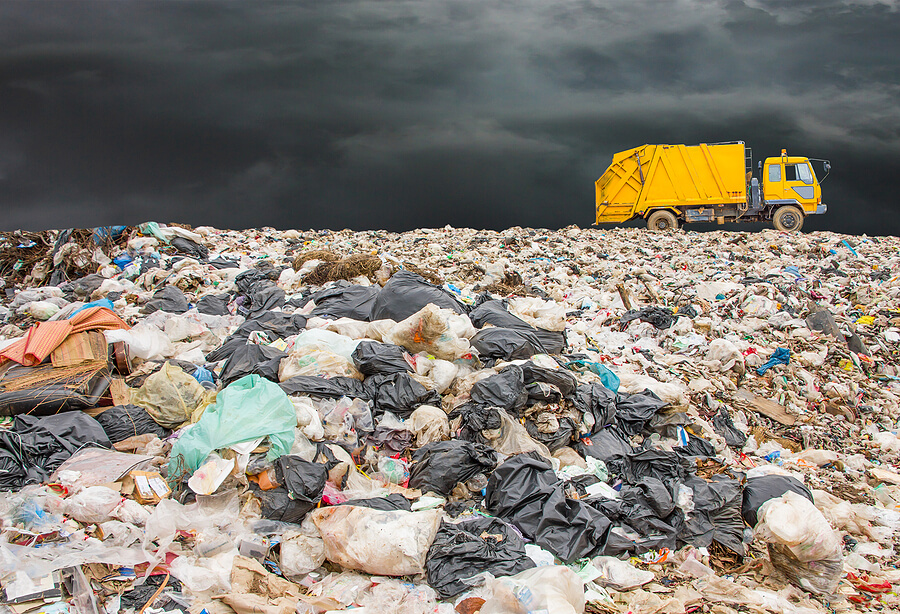 Store commercial waste securely
It is a legal requirement to store commercial waste in a secure place.
Suitable containers must be used to store any commercial waste and suitable covers need to protect the waste against different weather conditions such as rain and wind.
As well as storing waste securely, the containers must each be labelled clearly with the type of waste they contain.
Complete a waste transfer note
Each time commercial waste leaves your premises, you must complete a waste transfer note or similar document detailing the same information.
It is possible to register online for this and complete a waste transfer note for a single load of waste or create a season ticket for a series of loads.
Ensure you keep a copy of all waste transfer notes for two years, so they are available to show your local council or the Environment Agency if you are asked.
Check your waste carrier is registered to dispose of waste
It is essential to check that the waste carrier you choose is legally registered to dispose of waste.
If you have suspicions that your waste carrier is going to dispose of your waste illegally, you must report them to Crimestoppers.
Hazardous waste
Businesses need to check if their waste is hazardous.
Hazardous waste includes chemicals (such as printer toner), batteries, solvents, oils and more.
Any hazardous waste your business produces must be disposed of in a different way to your normal commercial waste — contact your waste management company to discuss your needs.
Ensure you store hazardous waste materials separately, so they do not contaminate other waste or each other.
Choose your waste carrier carefully
As there are so many legal requirements and procedures that need to be followed when disposing of commercial waste, it is important to choose your waste carrier carefully.
Forge Waste & Recycling offers business waste management solutions for any sector; this includes regular commercial waste collection and lockable containers.
While collecting your business waste, Forge can also offer innovative recycling solutions which will benefit the environment and save you money.
Alongside abiding by all legalities, Forge operates a 'zero waste to landfill' policy, which is excellent for companies looking to improve their corporate social responsibility.