Worksop Commercial and Residential Waste Management Services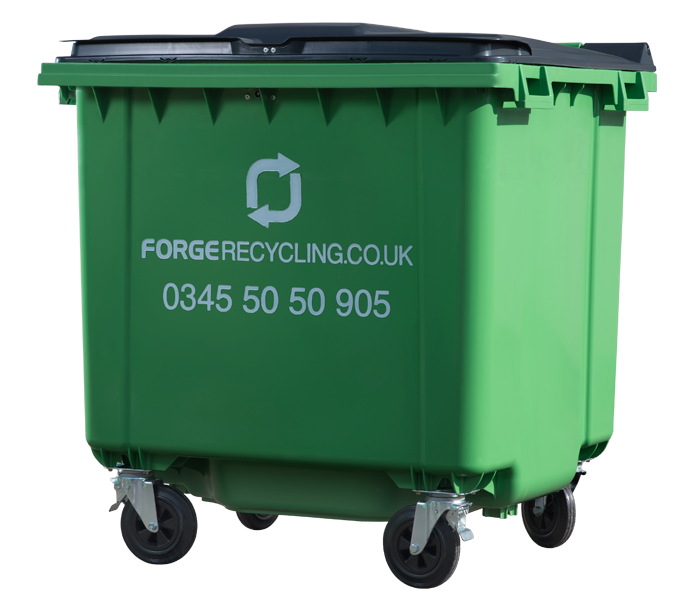 Worksop is a large town in Nottinghamshire, located to the south of Doncaster and the east-south-east of Sheffield.
Originally a market town, Worksop is now a popular commuter area due to its location and useful transport links.
As a local hub, Worksop is a town that produces a lot of commercial and domestic waste.
Forge Recycling offers a wide range of waste management, waste disposal and waste recycling services in Worksop, which this page will explain in more detail.
Commercial Waste in Worksop
Worksop, like all towns, contains a wide range of businesses — including offices, warehouses, pubs, restaurants, and much more.
Every business is unique and, for that reason, we assess the waste needs of every single customer — creating a custom waste plan that is perfect for them.
Often, your business's waste needs are ascertained through a free, no-obligation waste audit.
From this, we can work out exactly the type and size of commercial bins to give you, as well as how often you'll require a collection.
Whatever sector your business is in, we are here to collect your commercial waste in Worksop, regularly and reliably.
If you'd like to save money on your commercial waste collections while increasing your recycling and giving your corporate social responsibility a boost, then Forge Recycling is the right fit for you.
For a hassle-free regular collection of business waste in Worksop, get in touch today.
Waste Recycling in Worksop
Here at Forge Recycling, we keep our prices low and our green credentials high by sending zero waste to landfill.
We are passionate about protecting the environment and so we recycle all that we can and any waste we collect that can't be recycled is turned into energy instead.
Our Worksop recycling services also result in lower prices for you, as zero waste to landfill results in zero landfill tax to pay.
We use a variety of commercial bins to collect recycling from our customers but we like to keep it simple.
Most Worksop businesses would benefit from our mixed recycling service. We can supply indoor and outdoor bins for this, to make recycling as simple as possible for your employees.
Our mixed recycling bins collect paper and cardboard, plastic, and aluminium.
Using an office as an example, here is where this waste might come from:
Paper and cardboard: Documents, mail, deliveries.
Plastic: Packaging, bottles and food containers.
Aluminium: Drinks cans and food tins from lunches at work.
Other business waste collections we offer in Worksop include food waste, glass recycling, paper cup collection, and electrical waste.
Alongside our regular collections, you can always organise a one-off collection with us for any bulk waste you need to dispose of.
Domestic Waste in Worksop
If you have some domestic waste in Worksop that needs shifting, then don't hesitate to get in touch below.
Perhaps you need to empty a house ready for putting in on the market; in which case, our house clearance service would be perfect.
For other Worksop household waste clearance needs, give us a call on 0345 50 50 905 — we have several cost-effective options for you.
Got a question about our Worksop waste services? Get in touch!
Customer Feedback
Service used: Commercial Waste
Forge Recycling provide us with a multitude of services from wheelie bins to ROR's and FEL's collecting various waste streams. I have always found them to be a progressive forward thinking organisation, always ready to embrace new technologies and disciplines to achieve best practice.
Client: David Adams
Rating: 5/5
Service used: Waste Clearance
Very polite, professional and considerate driver made getting waste cardboard out of a very tricky back-street location very easy. Will definitely use again
Client: Jon (H2k Ltd)
Location: HG1 2TG
Rating: 5/5
Service used: Skip Hire
Had 3 different skips now from yourselves and the customer service has been excellent. Keep up the good work.
Client: Tracy (Almerico)
Location: Hull and Leeds
Rating: 5/5
Service used: Commercial Waste
Happy New Year to all your hard working staff especially over the Christmas period. I'm glad to say that our waste management planning and your delivery on our collection requests worked well, and there were no issues to report. I have to say that this is a massive factor for us operationally so thank you to all. Please pass this on to all those involved.
Client: Steve Kersh (Royal Armouries (INT) Plc)
Location: Leeds - LS10 1LT
Rating: 5/5
Service used: Skip Hire
Upbeat & helpful staff - good communication in the team . Charlie was Willing to work with me as a client exploring best options:Negotiated different prices for recyclables Gary skip delivery is just amazing he can judge the size of skip you need by glancing at the waste pile ; and with MILImeter precision will manoever past parked cars gateposts & all with a smile on his face . Will be using from now on we have long project so need an efficient reliable capable waste management partner would highly recommend
Client: Zoe (Homeowner)
Location: Leeds
Rating: 5/5