Glass Waste Collection For Recycling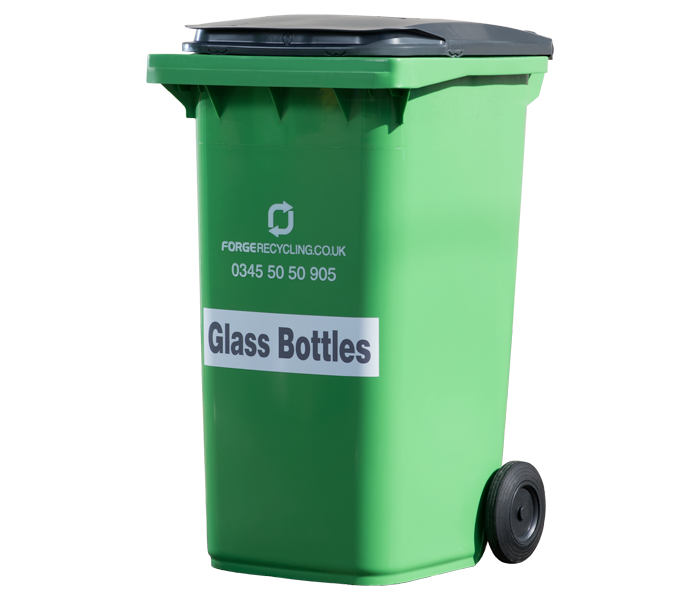 If your business currently sends glass waste to landfill: Stop! Not only is sending glass waste to landfill an expensive option for your business due to the weight of glass, it is also a terrible option for the environment.
We collect commercial glass waste across: Bradford, Castleford, Doncaster, Harrogate, Ilkley, Halifax, Huddersfield, Keighley, Leeds, Selby, Tadcaster, Wakefield, York & everywhere else inbetween.
Glass is a resource that can recycled 100%, time and time again, as it does not degrade through the recycling process. Here at Forge Waste & Recycling we collect glass waste using 240 and 360 litre bins or a combination of both, depending upon your business's specific needs. We provide our popular glass recycling service to customers who run businesses such as:
Pubs
Clubs
Bars
Cafes
Restaurants
Shopping centres
Hotels
We will happily collect glass from any business that requires this service.
Order a glass waste collection
It's time to stop sending Glass to landfill.
Through the power of Glass Recycling, Forge Recycling can help your business by reducing your Carbon Footprint, saving you money and moving your business towards 'Zero to Landfill'.
Take a look at the lifecycle of a glass bottle when collected by Forge which prevents any glass from going to waste!
What type of glass can be recycled?
All glass can be recycled; any shape, colour or size. In the past, commercial glass recycling was a little tougher as waste companies wanted you to separate your glass into different colours. Some still do. At Forge Waste & Recycling, we collect all your mixed glass in one bin, making it a completely hassle-free process.
How is glass recycled?
Glass waste is removed from your premises, then sorted by colour and washed so that any impurities are removed. After this, it is crushed into tiny pieces and melted down before being made into new bottles, jars and other glass items. None of the original glass goes to waste.
The benefits of recycling glass waste
There are many benefits for both your business and the environment by choosing to recycle your glass with Forge Waste & Recycling. These benefits include:
Saving money on your waste management, as glass costs far less to recycle than it does to send to landfill
Avoiding expensive Landfill Tax by diverting your glass waste elsewhere
Reducing your business carbon footprint
Moving your business towards being 'Zero Waste to Landfill'
Less new glass will need to be produced if we all pull together to recycle old glass
Glass recycling facts
Recycling glass is an excellent choice for the environment. Did you know…
The energy saved from recycling one glass bottle will power a computer for 20 minutes or a 100-watt lightbulb for almost an hour.
Every 1,000 tonnes of glass that is recycled saves 1,000 tonnes of landfill, 345,000 kWh of energy, 1,200 tonnes of raw material and 314 tonnes of CO2.
Do you want to save your business money on your waste collections? Would you like to stop sending your glass waste to landfill? Get in touch with Forge Waste & Recycling today for a free, no obligation business waste audit.