Halloween is a much-loved celebration that has long served as a symbolic bridge between the worlds of the living and the dead.
Nowadays, this October festivity is synonymous with trick-or-treaters, elaborate costumes, spirited gatherings, and the tradition of pumpkin picking and carving.
However, Halloween has a skeleton in its closet. The chilling truth is this eerie celebration generates significant waste, with pumpkin carving being a major contributor.
Pumpkins are typically picked, intricately carved, proudly displayed, and then discarded — before ending up in a landfill as pumpkin pollution.
This year alone, a spine-tingling 22.2 million pumpkins are projected to meet this grim fate. Sticking the knife in further, this equates to a staggering £32.6 million in wasted resources and thousands of tonnes of perfectly edible pumpkin flesh.
Let's dive deep into our cauldron of ideas and shed some light on how to make environmentally responsible choices this Halloween.
We'll explore methods to select and decorate your pumpkin and explain how to avoid contributing to the ghoulish waste statistics this October.
Why is Halloween pumpkin waste a problem?
A frightening 39.9 million pumpkins are set to be purchased across the UK for Halloween 2023, and over half are destined for the bin when the spooky season ends.
Pumpkins are entirely edible aside from the stalk and delicious, too. So, as a nation, we are wasting a lot of edible food.
The repercussions of this wasteful practice aren't confined to our wheelie bins. When discarded in landfill sites, pumpkins release greenhouse gases like methane as they gradually decompose, surrounded by a colossal amount of other waste.
Methane is a massive contributor to climate change, making it essential to reconsider how we approach pumpkins this Halloween.
How to reduce Halloween pumpkin waste
You can easily reduce pumpkin waste this Halloween by following a few straightforward steps.
Consider size
Buying the largest pumpkin you can get your hands on can be tempting, but a bigger pumpkin results in more waste.
Larger pumpkins are often grown with aesthetics in mind and are less flavourful, making you less likely to want to eat them.
Choose a smaller pumpkin this year to minimise waste and enjoy a manageable amount of tasty leftovers.
Be aware of your pumpkin
It's common practice to buy a pumpkin, carve it, enjoy it for a few days during Halloween, and then let it slip from your mind.
Sadly, many rotting pumpkins can be found adorning doorsteps and garden walls across the UK come Bonfire Night.
Pumpkins have a decent shelf life when stored properly. They will stay fresh for around one month at room temperature, while in a cool, dark environment, they can last between two and three months.
However, once you've carved a pumpkin into a lantern, the clock ticks faster, and decay begins as soon as three days later.
To ensure your pumpkin is at its best on the big day, it's wise not to carve it too far in advance.
Reconsider carving
While some pumpkins are chosen to play a starring role in autumnal décor, the majority are transformed into luminous lanterns.
This year, consider breaking from tradition and proudly showcase pumpkins' unique and whimsical beauty in their natural state — they're available in various colours and shapes.
Not only will they make striking displays, but you'll also be able to reuse them afterwards.
If you're keen for your pumpkin to have a face, you could:
paint a design
embellish it with buttons and ribbons
create a face using a permanent marker pen
fashion felt shapes, and make an owl with eyes, a beak, and claws at the base
craft a mummy pumpkin using toilet paper or white duct tape and googly eyes
experiment with scrap paper and beads.
If you're happy to forgo the face, you could decorate your pumpkin using:
string (for cobwebs) and fake spiders
a sprinkle of confetti or glitter
washi tape, crepe or tissue paper, stickers, or wool
melted crayons
decoupage with paper or printed photographs
leaves
Mr and Mrs Potato Head body parts from your kids' toybox.
When you're determined to carve, try alternative techniques that prolong your pumpkin's life. Avoid the traditional top-chopping method, as it significantly shortens its lifespan.
What to do with Halloween pumpkin waste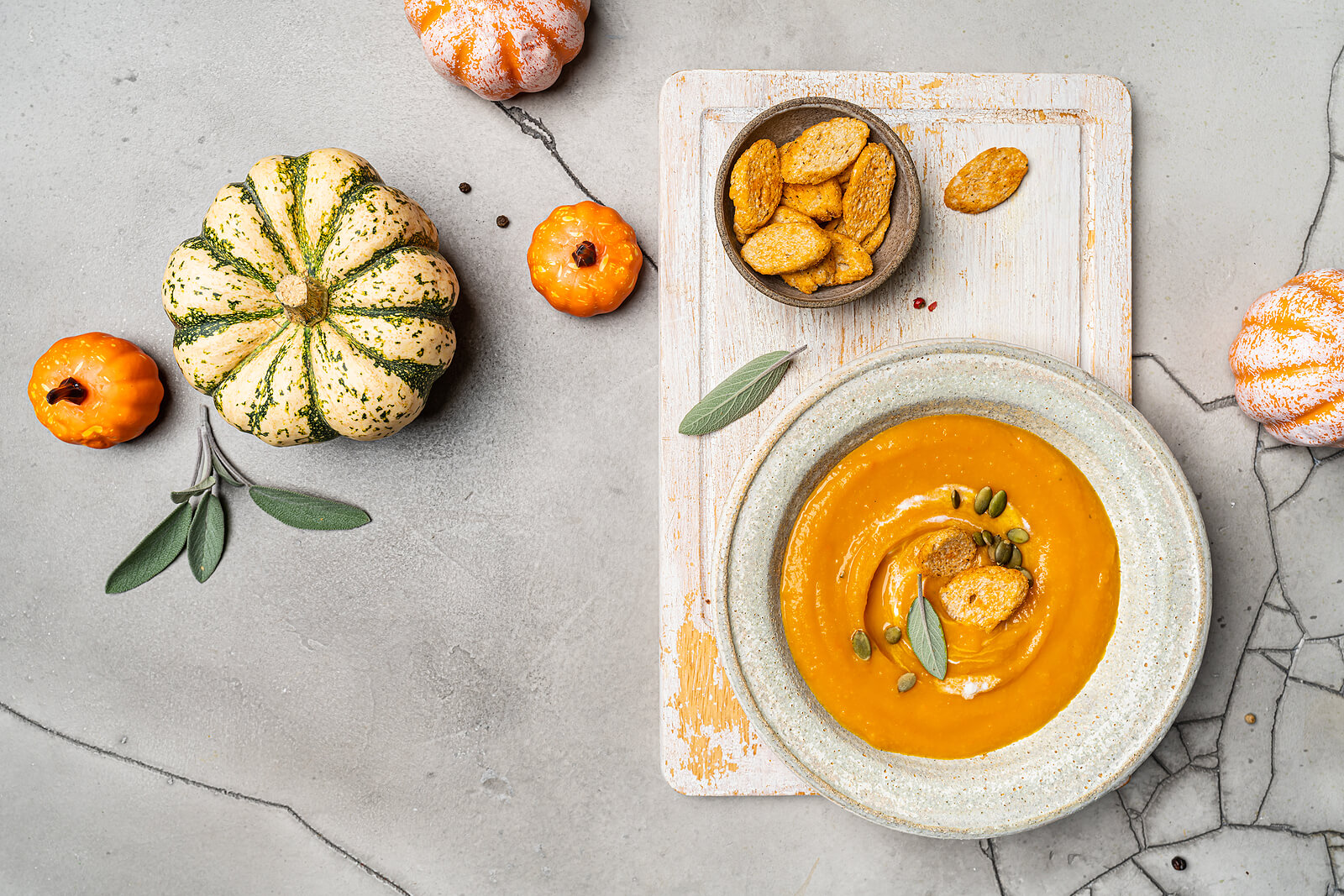 Whether you display a whole pumpkin or a finely carved masterpiece this autumn, planning for what comes next is essential.
To adopt a no-waste approach to pumpkin carving, consider putting the insides and flesh to immediate use or storing them in the fridge for use later.
Pumpkins can make a delightful addition to your cooking repertoire, and the interior of a creatively carved pumpkin can also serve a purpose in the kitchen.
Let's explore some inventive ideas to make the most of your pumpkin and minimise waste this Halloween.
What to do with pumpkin flesh
Pumpkin is a delightful and versatile ingredient for sweet and savoury seasonal recipes. Here are some ideas to get your tastebuds tingling:
Consider chopping pumpkin flesh into chunks if none of those suggestions pique your interest. Coat them with oil, season them, and roast them to perfection for a portion of delicious (and nutritious) bites.
Alternatively, create a velvety pumpkin puree, which you can use instead of applesauce in baking recipes, added to a breakfast bowl, or whisked into fluffy pancakes.
What to do with pumpkin seeds
Once you've scooped the seeds from your pumpkin, clean and thoroughly dry them. Then, toss them in oil and your preferred seasoning and roast them in the oven until they're wonderfully crisp.
The roasted seeds can then be enjoyed on their own, added as crunchy toppings to salads and soups, or stirred into a batch of granola.
What to do with pumpkins you don't eat
If your pumpkin has started to decay or you don't like its taste, the best action is responsible disposal.
Consider composting it at home, placing it in a food waste bin, or taking it to your local recycling centre.
For faster decomposition, chop the pumpkin into small chunks and remove the seeds to prevent unexpected plant growth.
If you plan to purchase more pumpkins next October, saving some clean, dry seeds in a cool, dark place is a thoughtful idea. These can be planted outdoors in April.