This competition has ended, and the winners were Angela Evans and Sophie Jayne. Thanks to all who entered.
---
Composting has great benefits for you and the Earth, including: dramatically cutting your household waste levels, lessening the amount of waste being sent to landfill, and creating a nourishing matter for your garden plants – saving you money, as you won't need to buy any special products from the garden centre.
Here at Forge Recycling we are keen to encourage UK residents to get composting, and because of this we are giving away not just one but TWO compost bins for your garden. Two lucky winners will have a Blackwall 330 litre black compost converter delivered to their gardens, courtesy of Forge.
These bins are made from recycled plastic, and are guaranteed for 15 years, so you'll have many years of composting ahead. Their dimensions are 100cm (H) x 80cm (W), and they require no assembly.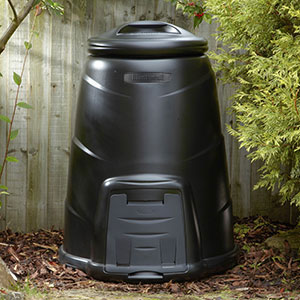 You can find tips on using your compost bin in our Guide to Composting, here. Continue reading Win a compost bin for your garden!