We recently published a guide to menstrual cups, but not everyone can use menstrual cups or likes the idea of them.
Another more sustainable alternative to single-use menstrual products is the cloth pad, and so this blog post takes a look at that — what cloth pads are, how to use them, and all of the benefits and drawbacks of them.
Let's start at the start with what they are.
What are cloth menstrual pads?
Cloth menstrual pads are a reusable alternative to single-use sanitary towels, and are made from fabric. They are held in place in underwear through the use of press-studs on the wings.
How do you use cloth pads?
Cloth pads are used in the same way as the single-use pads but, instead of throwing the pad away after use, you then wash it.
Everyone has their own method for this, but I'll outline a few options for you below:
Fold each pad after use and store them in a wet bag, then throw them all in the washing machine (with the wet bag) at the end of your period.
Rinse each pad after use, stain treat them, then store them in a wet bag until laundry day.
Place the pads in a bucket of cold soapy water after use and cover with a lid, then drain and wash as normal when required.
There is no right or wrong method; just do what works best for you.
If you're out and about while on your period with cloth pads, simply use a small wet bag with two pockets in it; one pocket to store your clean pads and one pocket to store your used pads. Then just transfer your used pads to your larger wet bag or bucket when you get home.
When it comes to washing cloth menstrual pads, put them on a cool wash. You can wash them with your other laundry.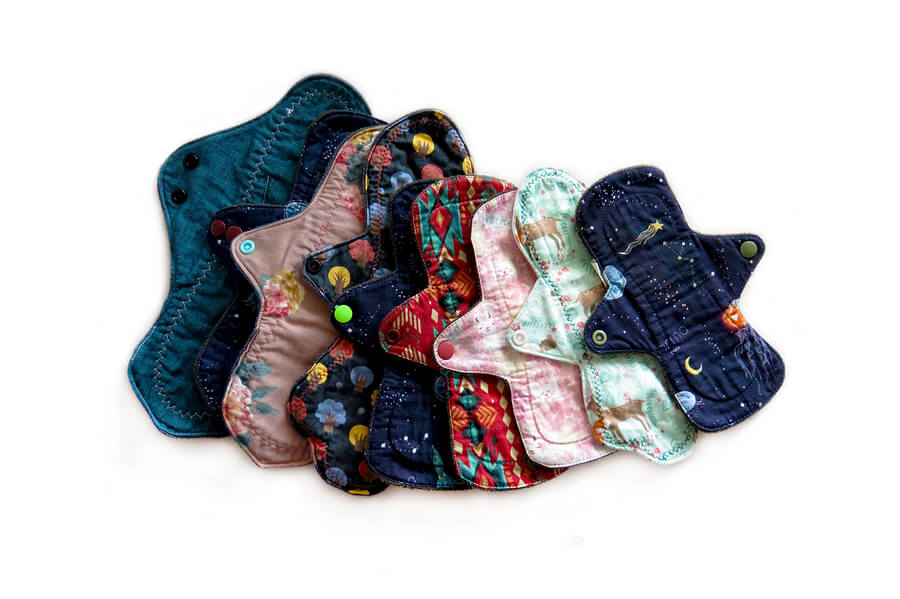 What are the pros of using cloth menstrual pads?
The long-term cost
There's an initial cost when you purchase your pads, but then you'll not have to buy any single-use products for years; at least five years, but this depends on how many pads you have in rotation and how often they are washed.
The designs
Single-use sanitary pads are all white and similar in design whereas, when purchasing cloth pads you'll find a wide range of fun designs — from patterns to prints and everything in-between. Or you can make your own and choose your own fabric!
Less waste
If you're on our blog, the chances are you're interested in all things sustainable. Well, reusable cloth pads are far better for the environment than single-use pads; these often end up in landfill in their masses, where they take many years to decompose.
Less chemicals
Single-use pads are often bleached and are composed of up to 90 per cent plastic.
Better absorbency
Most people find that cloth pads are far more absorbent than the single-use ones; this means less chance of any accidents occurring as the liquid is drawn straight in.
What are the cons of using cloth pads?
Initial cost
The initial cost is an investment but it can be off-putting and won't be an option for everyone, unfortunately. In this case, you could consider making your own; there are plenty of cloth pad patterns on the internet.
Staining
Depending on the colour of your pads and your method for washing, staining can be a problem. Prevent the issue by buying dark-coloured cloth pads, using stain remover, or changing out your stain remover for another one.
Time
You will need to wash and dry your pads before you can use them again; this is something that you don't have to spend time doing when using disposables.
More contact with blood
Because you wash the pads, you have more contact with blood than you would otherwise. However, it's only natural and you soon get used to it.
Using more energy and water
You can wash your pads with your regular laundry but if you rinse them or pre-soak them, you may end up using more water and energy as a result.
However, there are ways around this, such as rinsing them in the shower while you're in there having a wash.
You can find out about other sustainable alternatives for your period in our recent article, A guide to reusable and eco-friendlier period products.