Thank you to everyone who entered. The competition is now closed and the winners are listed on the Rafflecopter widget below.
It is Zero Waste Week and, as usual, we have a giveaway in place to help you reduce your waste and live a more sustainable life.
Seeing as we now offer paper cup recycling as one of our services, this year our prizes are reusable coffee cups.
Using a reusable cup saves paper cup waste, is far more sustainable, and usually results in a discount for you when you visit your local coffee shop!
The benefits are numerous.
Win a reusable coffee cup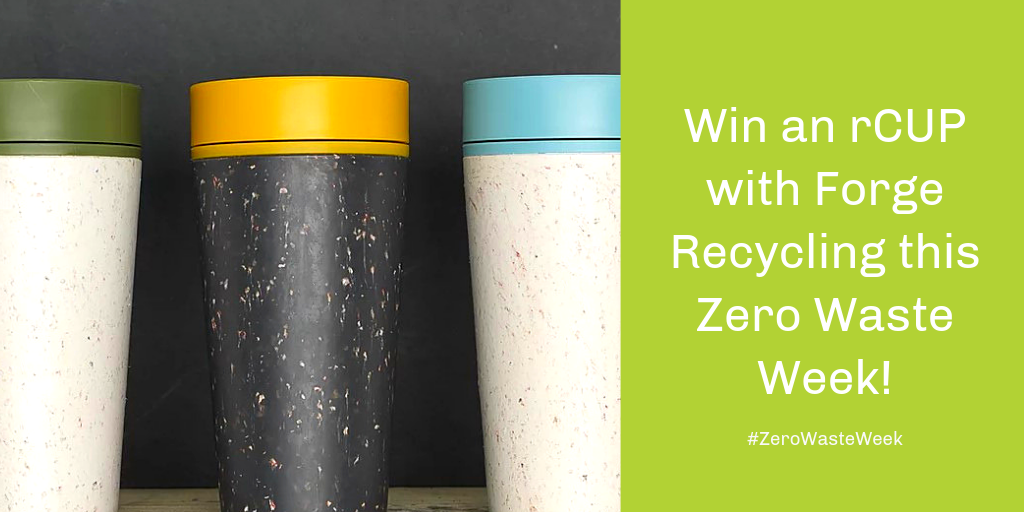 The cups we are giving away in this competition are rCUPs.
Each of these drink containers is made from six used disposable paper cups, potentially rescuing them from landfill.
This is far from the only smart thing about these cups, however.
100 per cent leak-proof, this cup can go everywhere with you.
It offers a 360-degree drinking experience, like a normal cup, rather than a small hole to drink from.
It's also well insulated, to keep your drink hot or cold for over an hour.
With a simple press button, you can open and close your cup with one hand, meaning it's easy to drink on the go.
On top of the above, this cup can be recycled kerbside when the time comes for you to replace it.
How to enter the competition
It couldn't be simpler to enter our competition. Just complete one or more tasks on the Rafflecopter widget below and you're done!
If you want to boost your chances of winning an rCUP, pop back daily as some tasks can be repeated.
a Rafflecopter giveaway
Terms & Conditions
• The competition will run from midnight on 1 September 2019 to midnight on 6 September 2019.
• There are five prizes of one reusable cup each.
• There will be five winners.
• There are no cash alternatives to the prizes.
• The winners will be selected at random by Rafflecopter.
• The prizes will be ordered directly from the supplier when the competition has ended.
• The competition is open to UK residents only. We, therefore, reserve the right to draw a new winner at random if a winner does not live within the United Kingdom.
• Your personal data is collected by Rafflecopter, not ourselves. We will use the data to contact winners and send prizes out, but we will not store it. You can read Rafflecopter's Privacy Policy here: https://www.rafflecopter.com/privacy-policy
• If a winner does not respond before 27 September 2019, the prize will be forfeited, and we will draw a new winner at random via Rafflecopter.
• The winners' names will be featured on this blog post via the Rafflecopter widget, and will also be announced on our social media channels.