Shampoo, make-up and soap all come wrapped with enormous amounts of plastic packaging as standard.
However, plastic pollution is an ever-growing problem that we all need to be aware of.
Unfortunately though, there has been a steady increase in the production of disposable plastic products since the 1960s and '70s, and the amount of single-use plastic being disposed of is overwhelming to our environment.
What effect does plastic have on the environment?
Plastic pollution is having a detrimental effect on the environment. Each year, eight million tonnes of plastic waste escapes into the ocean, which is equivalent to five full bags of rubbish for every foot of coastline around the world.
Plastic is found in the bodies of more than 90% of the world's sea birds and in the stomachs of more than half of the world's sea turtles.
Shockingly, it is predicted that by 2050, the plastic in the oceans will exceed the mass of the fish that live there.
Alongside the terrible effect it has on sea life, plastic is also one of the main products of fracking. Fracking pollutes the air, soil, and water with toxins, which is extremely damaging to humans and the environment as a whole.
Two-thirds of plastic waste comes straight from land; by leaving waste on the beach or dropping it in the city centre, your plastic waste can make its way into the ocean and pollute our environment.
What changes can I make?
Everyone must recognise their social responsibility to make small changes in their lives and therefore reduce the amount of plastic they use.
Understandably, these changes can be quite hard to make but, if all of us make small changes, we will see a difference.
For beauty lovers who are interested in going plastic-free, here are some ideas for Plastic Free July.
Use refillable products
Sometimes, products will have refillable options. Usually, refill products will be sold in recyclable packaging and will slot or pour into the original packaging.
Refilling cosmetic bottles or make-up containers is better for the environment as you are not disposing of as much plastic.
Stop using face wipes
Face wipes are one of the main culprits when it comes to plastic pollution and the beauty industry.
These products are not biodegradable. When face wipes get caught in sewage, on land, or in the sea, they exist there for over one-hundred years.
Many people tackle this problem by using biodegradable wipes or a reusable flannel with water instead.
Make some make-up swaps
Make-up is synonymous with plastic packaging, so take a look in your make-up bag and give some thought to the changes you could make.
Mascara
Mascara is a key item in every beauty kit; a touch of mascara can do amazing things! Environmentally-friendly beauty brand Zao has a refillable volumising mascara.
Not only is this mascara packaged in a varnished bamboo case, but it is also refillable!
Foundation
Wearth London has created a zero-waste foundation that will still look amazing on your skin.
The 'all earth mineral foundation' is made with natural ingredients and can be mixed with cream or water to create a consistency that adapts to your skin type!
The foundation is packaged in a plastic-free pot made from durable cardboard and refills are available.
Lips
EcoRoots is an American zero-waste beauty brand that has produced an intriguing range of products.
The zero-waste lip balm is available in bare or a 'rouge' colour and is perfect to finish your beauty routine while adding moisture to your lips!
The packaging is made from a paper tube and is completely plastic-free.
Switch to a bamboo toothbrush
Plastic toothbrushes are composed of a hard-plastic handle and nylon bristles; both of these materials are tough to degrade.
Bamboo is a natural and fast-growing plant; it is also fully biodegradable. Buying a bamboo toothbrush is a great alternative to buying a plastic one; however, it must still be disposed of correctly!
Replace bottles with soap and shampoo bars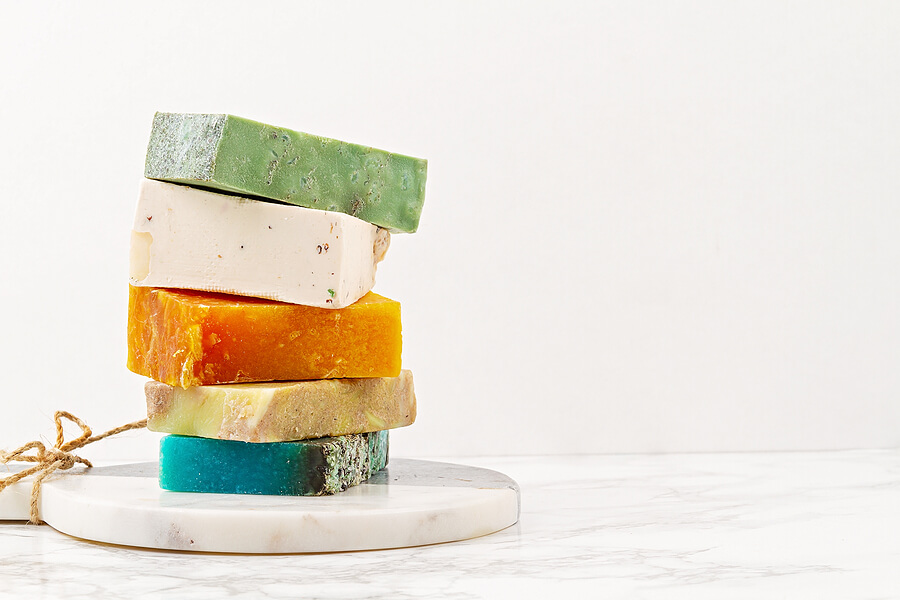 It's effortless to have a shower without thinking about all the excess plastic you're using. Your shower gel, shampoo and conditioner all come in plastic packaging.
Shower gel can easily be replaced by a bar of soap, which immediately cuts the use of one plastic bottle.
To get rid of another bottle, try using a shampoo bar. This might be a strange concept for many, but numerous people have been pleasantly surprised at how it reacts with their hair!
Buy in bulk
If you have space, bulk buying is an excellent idea to help the environment while saving you time and money.
Recently, many people have been buying in bulk and decorating their personal bottles.
Small label printing businesses, such as Lucie The Label, sell personalised bottles that you can refill with your favourite products. By doing this, you're helping the environment and gaining a charming aesthetic in your home!
Isn't plastic recyclable?
You may be thinking, can plastic be recycled? The answer is yes, and no. There are seven types of plastic, and it is sometimes not economical for local councils to recycle all of them.
This is why it is crucial that everyone tries to reduce the amount of plastic they are using.
What should I do with my old beauty and toiletry packaging?
John Lewis has created a beauty recycling trial named BeautyCycle.
This programme aims to collect empty make-up and skincare product containers and recycle or compost them!
The scheme was created in partnership with TerraCycle, and there are numerous 'drop-off' locations around the UK.
Don't worry about big changes straight away
It can be challenging to make big changes, so don't put too much pressure on yourself!
If you have a skin condition or are just familiar with using certain products, the zero-waste market is constantly expanding, and so a product will be out there for you — if not now, then soon.
Aim to make small and sustainable changes in your beauty routine over time and between us all we will tackle plastic pollution.