Fly-tipping is more than just a nuisance. For businesses, disposing of other people's fly-tipped waste can be costly and inconvenient.
Illegally dumped waste dodges eco-friendly waste disposal rules such as recycling as much as possible, too, which is bad news for the environment — especially when the waste includes hazardous materials like hydraulic fluids and paint.
In this article, we'll look in detail at the origins of this unwelcome practice, the impact on victims and the environment, and some of the solutions to reduce fly-tipping in the future.
What is fly-tipping?
Fly-tipping is the illegal dumping of waste on land where you are not authorised to do so or where it is illegal to dump waste due to environmental protection.
This can be public land or somebody else's private property, and can even encompass excess waste materials you dump on your own business premises or back garden.
In urban areas, fly-tipping often occurs on industrial land and residential alleyways, especially those that cannot be seen easily from the main road.
In rural areas, waste is often fly-tipped on farmland, thrown over bridges into rivers, or just dropped at the roadside, creating a blight on our natural landscape.
Why is it called fly-tipping?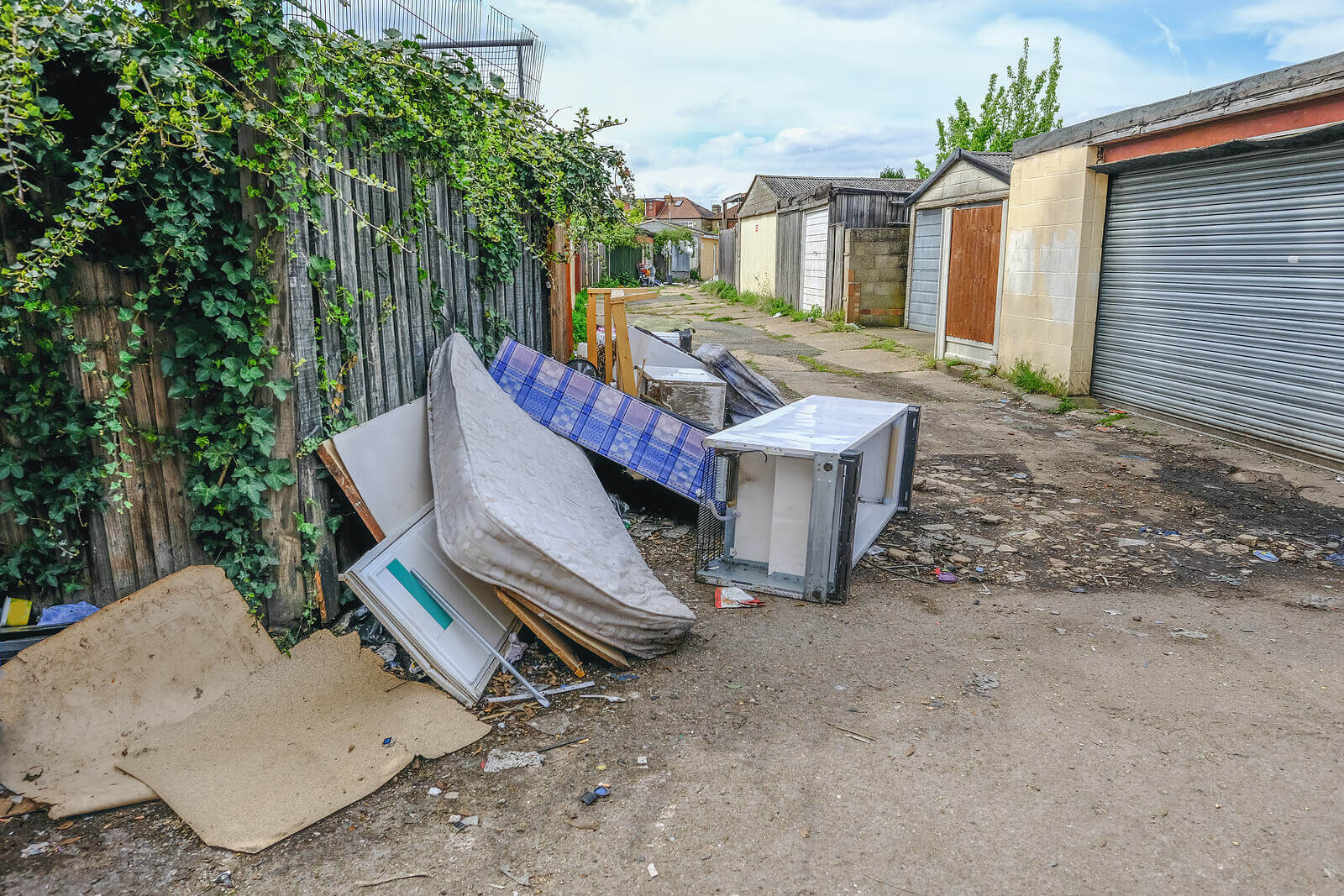 The term 'fly-tipping' can be dated back to 27 June 1947, according to Pascal Tréguer's Word Histories.
The West London Press reported the National Fire Service and Public Health Department were working together to prevent "the indiscriminate depositing of rubbish in static water tanks".
In the post-war period, bombed sites were still being cleared and frequently fell victim to illegal dumping of waste.
The article notes a call for a "new procedure for the clearance of refuse and debris from bombed sites and the protection of such sites against fly-tipping".
The term itself is fairly self-explanatory:
'Fly' originates from "on the fly", i.e. an act carried out by someone while on the run.
'Tipping' refers to dumping waste, similar to taking your rubbish to the 'council tip'.
So 'fly-tipping' really means dumping rubbish without stopping but, in particular, it refers to the illegal act of dumping waste materials where you are not authorised to do so.
Is fly-tipping a criminal offence?
Fly-tipping laws in England allow for various penalties to be imposed on those found guilty, including a criminal conviction.
Some examples of the legal punishments for fly-tipping include:
£400 fine for householders who pass the waste to an unlicensed carrier who fly-tips it.
Fixed penalty notices and seizure of vehicles associated with fly-tipping.
£50,000 fine and 12 months in prison at Magistrates Court.
Unlimited fine and five years in prison at Crown Court.
These are all maximums — if convicted, you may receive a shorter prison sentence or a smaller fine — but they show the scale of the punishment for people who are found guilty of fly-tipping under English law.
How to report fly-tipping
Unfortunately, if you are a landowner who has fallen victim to illegal waste dumping, the cost of clearing the rubbish lands on your shoulders.
Take photos and keep a full record of any waste, and be careful around potentially hazardous substances.
If a later investigation catches those responsible, you may be able to reclaim your costs from them if you have good records.
Work with a reputable waste carrier to remove the materials, dispose of or recycle them correctly, and provide you with the paperwork to prove what action was taken.
You can find out more about this in our blog, 'What to do if someone fly-tips on your land'.
If you are concerned about materials dumped on public land, in a garden or on business premises, you can report fly-tipping to your local council.
In Leeds, for example, fly-tipping is classed under antisocial behaviour and crime, and the council website has separate wizards to report public fly-tipping, garden waste and illegal business waste.
What impact does fly-tipping have on the environment?
Fly-tipping can have multiple negative impacts on the environment, especially when compared with the legal and correct disposal of waste materials.
Some possible negative effects include:
General pollution of the environment, including possible wildlife habitats.
Specific risks of contamination due to hazardous materials, e.g. oil, petrol.
Loss of recyclable materials, e.g. glass, plastic, metal and paper.
We all share a responsibility to prevent this kind of environmental damage, whether that means taking your litter home with you when you're out in the countryside or arranging suitable waste disposal services for your business.
You can find out more about the issue and what the Campaign to Protect Rural England have been doing to tackle it over the past five years in our blog 'Why fly-tipping damages our countryside'.
What alternative waste disposal options are there?
Fly-tipping is not worth the risk, especially when there are many great ways to legally dispose of business waste and large quantities of domestic waste.
Waste clearance
Forge Recycling offers no-nonsense 'man with a van' waste clearance services around many parts of Yorkshire.
We send two uniformed members of staff, who will take care of the lifting. Our boxed waste collection vehicles can take up to 12 cubic metres, and you only pay for the space you use.
Waste containers
We can supply a range of different waste containers, including:
Pre-paid refuse sacks for small quantities of general waste.
Recycling bins from 240 litres to 1,100 litres.
Front-end loaders in 8 cubic yard and 10 cubic yard sizes.
RoRo containers in 20, 26, 35 and 40 cubic yard sizes.
These span most waste disposal needs, and we can arrange an ongoing contract for collection and disposal if you generate a regular output of waste materials.
Skip hire
Forge Skip Hire has skips from 4 cubic yards to 35 cubic yard containers — for both one-off and additional needs.
You won't find a better way to legally dispose of waste from building work, events and all kinds of occasional activity — and when your skip is full, just let us know via the website, and we'll come and take it away.
Final thoughts
Fly-tipping is nothing less than a scourge on our environment and a drain on landowners' time, money and patience.
There's no excuse for dumping your rubbish by the roadside or illegally tipping it on someone else's land — so, if you have waste to dispose of legally, or you're a fly-tipping victim who needs our help with waste clearance, call Forge Recycling today.