Late night boozing left you with an influx of empty wine bottles? Party remnants piling up in your recycling bin?
Upcycling wine bottles and turning them into beautiful home ornaments are all the rage and, luckily for us, is a quick and easy trend to recreate. Turn your empty tipples into stylish wine bottle décor while doing your bit for the planet.
How does glass waste affect the environment?
Correctly recycling and reusing glass waste is one of the many ways we can help the environment.
Glass is 100% recyclable and can be reused many times without a loss of quality, making it one of the greenest containers.
Glass made from recycled materials produces 20% less air pollution and 50% less water pollution. Using recycled glass also prevents over-filling landfills, which scar and damage natural habitats, and fewer glass objects are fly-tipped or left in bins.
When glass is recycled, it's melted down to its original form and repurposed for a new glass product. The heating process uses less energy than made-from-scratch glass, making it more cost efficient and eco-friendly.
How do you properly dispose of glass?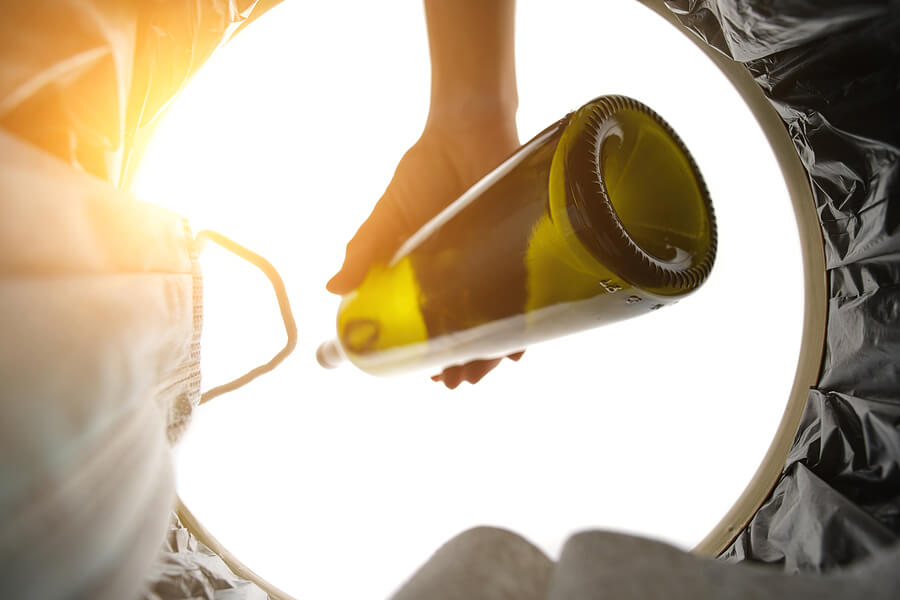 Depending on where you are based, most glass containers, including wine bottles, can be placed in your household recycling bin collected by your local council.
If your local authorities don't accept glass bottles or jars in your recycling wheelie bin, like in Leeds, look for the nearest bottle bank instead. These can be found in most areas, and are a good alternative if you have several wine bottles to recycle.
Before disposing of the glass bottle, give it a quick rinse. It doesn't have to be sparkling clean, just free of the previously contained liquid. Put lids and caps back on the bottle – this reduces the chance of them being lost during the sorting process, and they can be recycled separately.
For champagne and wine bottles, remove the cork and place it in your home compost bin. These cannot be recycled.
It's important to note that not all glass can be recycled in household bins. Clear glass is fine, however, coloured glass such as blue or green is not always accepted. Check on your local council website for further information.
How to upcycle wine bottles
Aside from recycling, wine bottles have a range of practical and decorative qualities, making them a great upcycle project.
Rustic and minimalist styles are a growing trend within home décor, a category wine bottles fit perfectly into.
Wine bottle lights
Transforming empty wine bottles into decorative feature lights is cheap and easy to achieve.
Once you have thoroughly cleaned and dried your wine bottle, place a string of LED lights inside it. Around 10 feet of cord (about 55 lights) will fill a standard wine bottle. LED lights also won't heat the glass, as they stay cool to the touch.
You can either have the cable and switch coming out of the top or carefully drill a hole in the bottom of the wine bottle to thread it through. Play around with the formation of the lights, tweaking them to your liking.
The end result is a pretty and eye-catching light that sits well in most styles of room. The tiny twinkling lights bounce off the glass, creating a dazzling effect.
Wine bottle candles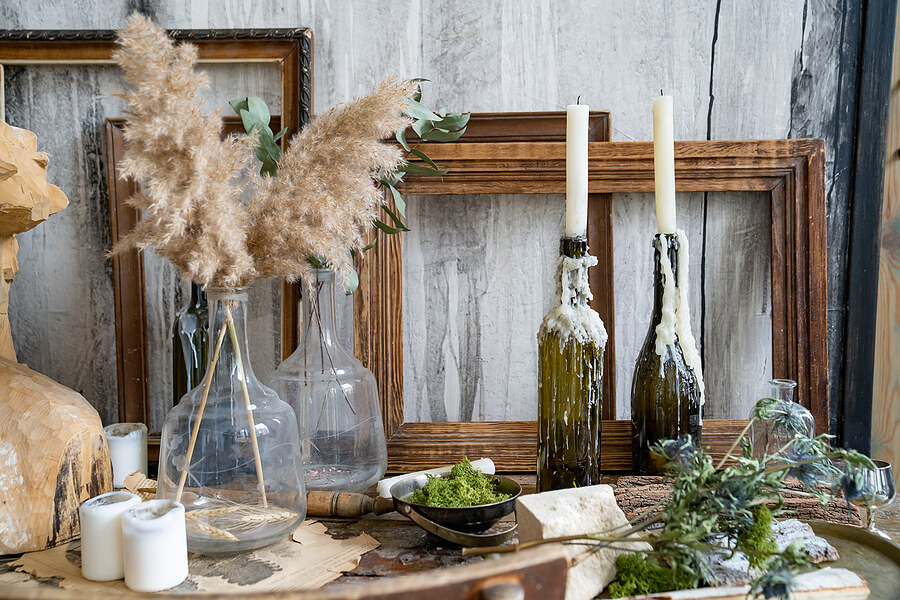 Another simple wine bottle décor idea is turning your empties into candle holders.
The long, thin neck of wine bottles work well for holding candlesticks. As the candle burns and melts, a pretty wax design will form on the bottle, giving a rustic feel to your kitchen or dining room.
Painted wine bottles
If you're looking for affordable party or wedding décor ideas, keep hold of your empty wine bottles.
Before the big event, cover each one with chalkboard paint before adding a touching message in chalk. They can be used as table centrepieces or as unique venue decorations.
You don't need to limit yourself to chalkboard paint either. Spray paints, metallic colours or pretty pastel hues all work well on empty wine bottles.
If you have a steady hand, you also can create a bespoke pattern or design on the bottle. Use them as vases or decorative pieces for the home.
Wine bottle planters
There are many ways to turn an empty wine bottle into a container for your plants.
Place the wine bottle on its side and remove a section, before placing your favourite succulent or small plants into the gap. Alternatively, chop off the top of the wine bottle and place a plant with roots and some soil into the empty container.
This trendy hanging planter is a wonderful craft project for your empty wine bottles, perfect for jazzing up a balcony or patio.
Modified and upturned wine bottles also make great self waterers for house plants. Use all sections of the bottle and turn them into elegant and practical additions to your home.
Reuse for homemade wine
If you've recently experimented with homemade wine, you can reuse your empty screw-top bottles for storage.
Prepare the bottles by properly cleaning and disinfecting the bottle, which includes removing any labels and skirts.
To sterilise the bottle, you'll need a stronger solution such as an oxygenating cleaner. Regular soap and water won't properly clean the bottle, especially as you're going to be storing your homemade wine for an extended period of time.
Once your bottle is spotless, use a funnel to pour your homemade wine into its new container. DIY labels are useful for determining the type of wine – go as fancy or as simple as you wish.
How to remove wine labels to reuse the bottle
For any wine bottle craft project, you'll need to remove the original labels. Depending on the brand, this can be quite tricky. Many labels also leave a sticky residue that is tough to get rid of.
Soaking the bottle for around 30 minutes in a solution of warm water and baking soda usually does the trick. If your label is particularly stubborn, ammonia can be used.
To get rid of the glue residue, soap, warm water and scrubbing with a dish brush should work. Use a non-abrasive scrubbing pad so as not to damage the wine bottle.
Learn more about effective recycling and how you and your business can take an innovative approach to waste removal, with Forge Waste & Recycling.