Makeup is something that many of us use, often on a daily basis. Although sometimes we weigh up whether the cost is too expensive for certain products, we need to start understanding the environmental cost that makeup is having on the world.
Cosmetic packaging can take hundreds of years to break down in landfill, which puts many aspects of nature at risk.
This article will delve into the impact cosmetic products have on the environment and how to switch to zero waste makeup.
What impact do cosmetic products have on the environment?
The cosmetic and skincare industry is well known for its use of plastics in packaging. As plastic waste takes hundreds of years to decompose, it can remain in a landfill site for a long time. The longer waste is in landfill, the more it begins to put animals at risk of eating it or becoming entangled, resulting in death or serious injury.
Alongside putting animals at risk, plastic from landfill sites can make its way to water. When waste enters drains, rivers, lakes and the sea, the toxins pollute the area.
Two main ingredients found in beauty products are BHA and BHT. These two ingredients are known for killing sea animals and are even thought to be linked to genetic mutations.
However, although all this information is negative, the beauty industry has acknowledged the problem and is slowly but surely working to reduce the environmental impact.
What is zero waste makeup?
Now that cosmetic companies and consumers are becoming aware of the industry's environmental problems, more alternatives are being produced.
Zero waste makeup is being created by major brands in the cosmetic industry, as well as smaller independent brands. In simple terms, zero waste makeup are products that prioritise recyclable and minimalistic packaging.
Zero waste is achieved in a variety of ways when creating makeup products, including refillable packaging and eco-friendly ingredients.
How is zero waste makeup beneficial?
Zero waste makeup is hugely helpful to the environment and even consumers themselves. Here are some ways that zero waste makeup and lifestyles are beneficial.
It helps the environment
As we have mentioned, standard cosmetic products are made without the environment at the forefront of production.
Now zero waste makeup is on the rise, the products are dedicated to encouraging eco-friendly lifestyles and reducing the amount of waste the cosmetic industry creates.
As these products are recyclable and offer refills to consumers, it means that people have the option to buy the product individually rather than as a package.
You could save money
As well as saving the environment, you could start to save some money. If you're buying refills instead of the entire product again, the price tag will be a little lower.
Zero waste products don't contain a smaller amount of makeup; in fact, you will probably receive more for your money due to how long the items will last.
It can help you become a conscious shopper
As zero waste makeup products are not widely available in high street stores yet, you have to undertake a good amount of research before purchasing.
By doing research and not just impulsively buying products, you can consider whether you actually need them and whether you could save money in the long run.
Small businesses can benefit
As we mentioned before, many retail giants are not yet stocking a good amount of zero waste makeup products. However, smaller businesses that revolve their whole production around the environment and waste reduction have a plethora of products for you to choose from.
A lot of smaller zero waste businesses advertise and sell their products on Etsy. If you search "zero waste makeup" on the Etsy site, you are sure to find many small businesses that have products to suit you.
It could be the beginning of your zero waste journey
By making small swaps in your everyday routine, you start to contribute to a zero waste lifestyle. This doesn't mean that you have to go completely zero waste in one day. Small switches make a big impact in the grand scheme of helping the environment.
Zero waste makeup products you should try
When you begin your search, you'll find that there are a lot of makeup products out there.
Below are some ultimate zero waste makeup products that you should consider adding to your beauty routine.
Foundation and concealer
Foundation is something that many people use in everyday beauty routines. ForagedFields has created a foundation powder that you can fill your own container with. Not only is it zero waste, but it is also plant-based and works on sensitive skin. The brand's foundation powder can be bought online from Etsy and shipped to the UK!
All Earth has created a mineral concealer that contains natural ingredients that conceal and colour correct. In addition to being cruelty-free, the concealer has two packaging options, "new recycled pot for life" or "refill". The pots are made from recycled fishing nets, and the refill tubes are another option to reduce waste.
Lipstick
Lipstick has a variety of zero waste options available, even some of the leading brands such as NYX have options. NYX has the "This is Everything Tinted Lip Balm", which is fully recyclable. The balm is made from beeswax, so it is suitable for vegetarians but not for vegans.
Zao essence of nature has created a classic matt lipstick that is low waste. However, the refillable case does contain some plastic. Although this product is on the more expensive side, it is long-lasting and a sustainable choice without compromising the quality of the product.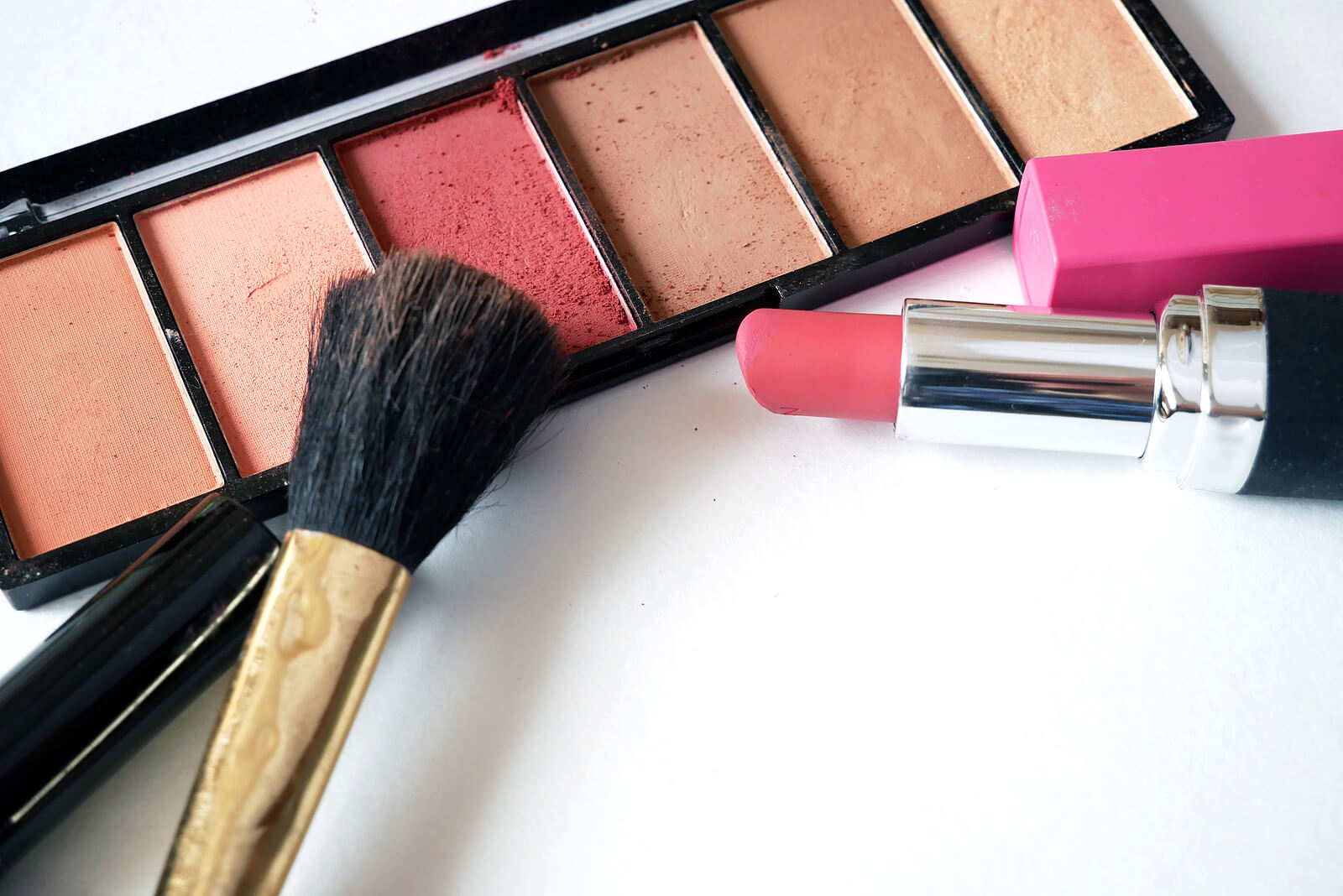 Blusher
Eco Roots created the ultimate zero waste blush stick that is perfect for all skin types. The packaging is made from paper tube and is 100% compostable. There are two colours available for you to choose from, depending on what kind of glow you are searching for. As well as being zero waste, this blush stick is also vegan.
Eye shadow
NudiGoods has a myriad of zero waste makeup products available on Etsy. If you're looking for zero waste makeup on a budget, NudiGoods has a lot of great options.
One of the most popular products the brand has available is the loose eyeshadow.  The eye makeup is 100% plastic-free and biodegradable. Not only is the loose eyeshadow perfect for giving you a striking eye look, but it can also be used as cheek shimmers or blush!
Mascara
Another amazing brand on Etsy is "dirtyhippiecosmetics". This brand is particularly known for its lengthening mineral mascara.
The mascara has ingredients such as lavender and jojoba oils to help nourish and protect your lashes, as well as high levels of Vitamin B5 and E to encourage long term lash growth!
Packaging wise, the product is contained in a recyclable glass vial with an aluminium screw cap. A sustainably grown bamboo handled synthetic fibre spoolie is also included with all orders to make the application process as easy as possible.
Eyebrows
Dab and Herb cosmetics has created a unique and impressive eyebrow product that is quite new on the zero waste makeup market. All Dab and Herb cosmetic items are packaged in glass and metal containers, with refills available for certain products.
The product enhances your eyebrows with a colour tint and has an effective balsam from medicinal plants that encourages hair growth! So, alongside having perfect physical brows, you are aiding your eyebrows to become healthier along the way.