Helium balloons are a lot of fun, whether they're bobbing on the end of a piece of string tied to a child's wrist, or turning people's voices squeaky at a grown-up party.
But balloons can be harmful to the environment and helium is a very, very limited resource – and we can't make more of it.
If you're concerned about protecting the environment, helium balloons are a definite no-no. In this article we'll take a look at why, and list some of the environmentally friendly alternatives to balloon release and helium balloon decorations for your next party.
What are balloons made of?
A normal balloon is made of latex or mylar. Mylar is a plastic but is usually given a thin coat of aluminium, to create the shiny foil balloon decorations often filled with helium.
Neither material makes for an especially eco friendly balloon, due to the length of time it takes for the latex or mylar to decompose – especially if released into the environment to land at random.
How long do biodegradable balloons take to decompose?
Biodegradable balloons may sound like an eco friendly balloon option. However, these are no silver bullet. The preservatives used mean even 100% latex balloons can take many months to degrade in landfill sites, or somewhere out in the environment.
In February 2021, the Journal of Hazardous Materials published research that found latex balloons behave like plastic in the environment. After 16 weeks in compost, freshwater or saltwater, no meaningful degradation was found, and the researchers concluded that in all three environments, balloons would continue to threaten wildlife if ingested.
What impact do balloons have on the environment?
Balloon release, for example at a baby gender reveal party, sends these latex or mylar foil balloons untethered into the atmosphere, with no idea where they will land.
When they come down, the helium is lost – and because it is so light and does not react with other gases, it escapes Earth's atmosphere completely, never to return.
Is there a balloon helium alternative?
Some party suppliers now use balloon gas, which is a mixture of helium that has already been used in science or healthcare, and is no longer suitable for direct reuse in those disciplines.
This is mixed with other gases to create a lighter-than-air balloon helium alternative and reduce consumption of fresh, laboratory-grade helium gas.
What is the physical impact of party balloon waste?
The physical part of the balloon may land out at sea, where it pollutes the oceans and can choke marine life if eaten, or it may come down on land and pose a choking hazard to wildlife.
In addition to all of this, there are potentially harmful chemicals used to make the balloon more elastic, to prevent it from fogging up, to make it fire resistant, to preserve it during long-term storage and, of course, to dye it a pretty colour.
Many of the physical impacts of party balloon waste are very similar to the reasons why plastic is bad for the planet.
Are there any eco-friendly balloon alternatives?
Here are our top 10 balloon decoration ideas. If you're planning to use plastics at your party – for decoration or for plates and cutlery etc – you might want to check our guide to which plastics can be recycled and which can't.
Lights
A string of fairy lights or a few well-placed lanterns can make a colourful substitute for balloons. Use LED lights or LED 'candles' to be even more eco-friendly. This is a great way to get some extra use out of your Christmas tree lights, too!
Flags
Individual flags placed around your party area can be used in games and activities, customised with names and dates as a keepsake, or made reusable for future occasions.
Bunting
Bunting is a string of smaller flags and can be used alongside, or instead of larger flags. Reusable bunting is increasingly popular and can be made of fabric to avoid using plastic.
Paper chains
Paper chains are traditional, pretty and biodegradable, and may be recyclable or compostable depending on the paper you use. They're also fun to make and can keep the kids occupied in the run-up to party day.
Streamers
Paper streamers are a quick and easy alternative to paper chains – just string them up around the place for some instant festivity, and your decorating can be done in a matter of minutes!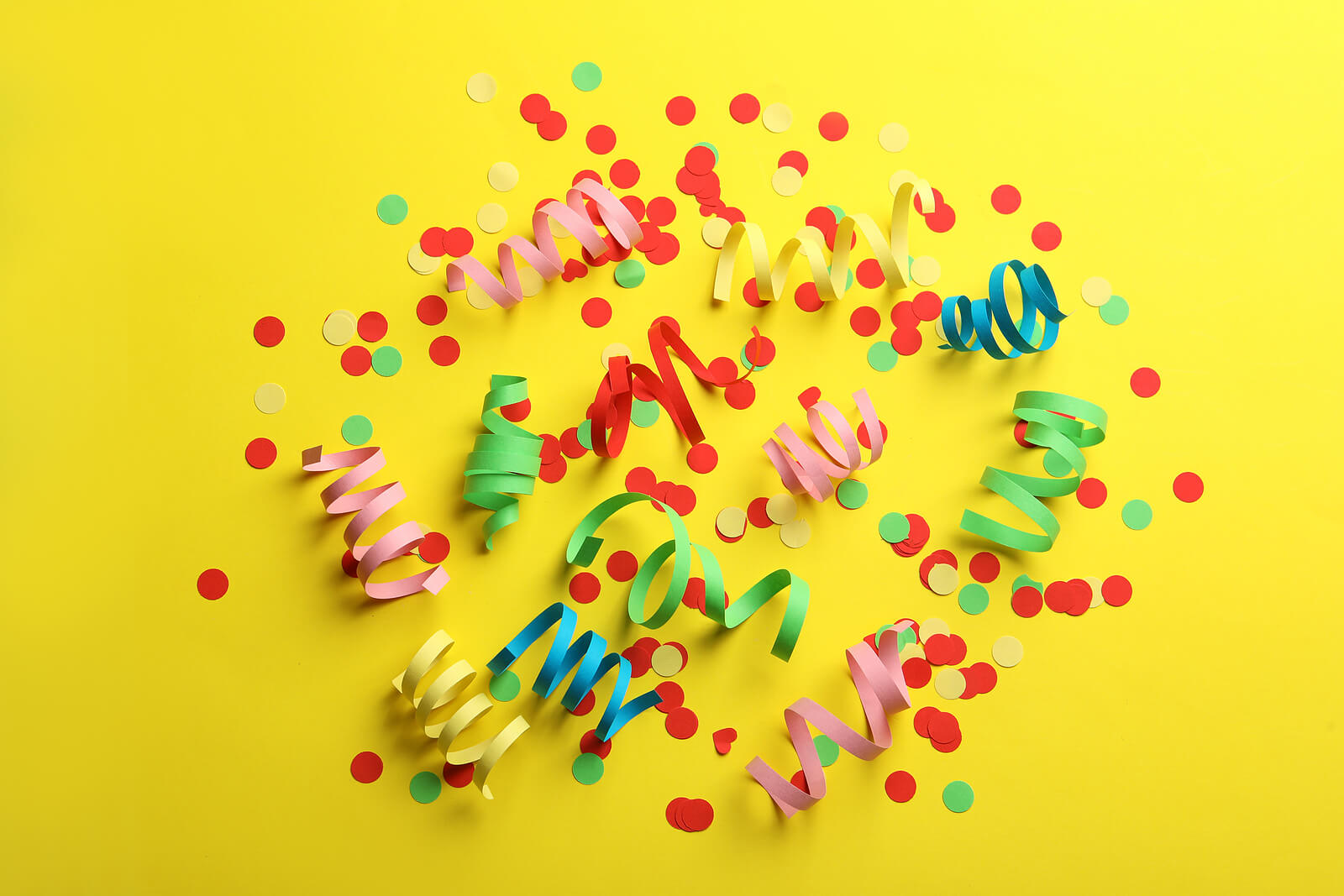 Pompoms
You can make your own pompoms from tissue paper. Concertina a stack of tissue paper, secure it with wire in the centre, then fan it out and ruche the layers to create a pompom effect. Quick, easy and completely recyclable.
Pinwheels
Paper pinwheels are easy to make – there are plenty of tutorials online – but look fantastic with their fanned concertina effect. Get the kids involved and you'll soon have a box full to hang around the place.
Bubbles
Bubbles are an increasingly popular substitute for helium balloons. Blowing bubbles is fun and gets kids directly involved, and other than a very small amount of residue, there's nothing left behind in the environment when a bubble pops.
Kites
A fun way to add some height to your party is to hand out kites. Expect chaos as party guests get their strings tangled, and friendly competition to see whose kite will fly the highest!
Biodegradable balloons
If you must have balloons, choose biodegradable balloons – progress is being made, slowly, on improving the compostability of party decorations, so it's only a matter of time until balloons catch up. But try to avoid releasing them into the environment and if you must have helium balloons, make sure they are filled with balloon gas that has already been used for scientific purposes, and not fresh pure helium.
The quicker way to recycle party decorations
If you've held a large party and need to clean up quickly without compromising on your commitment to recycling, our waste clearance service can help.
We can collect almost anything and you just pay for the space it takes up in our truck. To find out more, contact Forge Recycling today.