At the end of the academic year, the majority of students move out of their student housing and head home, never to return to the same property again. Enter changeover day!
Recent surveys suggest that the 18-24 age group is more wasteful than others, and one can easily imagine so when you consider the lifestyle of the average student — regular takeaways from single-use containers, parties, etc.
Of course, this doesn't apply to all younger people or students, or even the majority — but evidence suggests it does apply to some, and that is why we are writing this blog post.
As every student wants their deposit back when their tenancy ends, the priority in many students' minds will be to get the house into a respectable state before they hand their keys back to the letting agent or landlord.
Unfortunately, in some cases, this can lead to a panic regarding waste when they haven't planned ahead.
In some cities, including Leeds, the local council has teamed up with the university/universities to provide more regular waste collections over the changeover period; however, this is costing the taxpayer money and could easily be avoided.
What not to do with student waste when moving out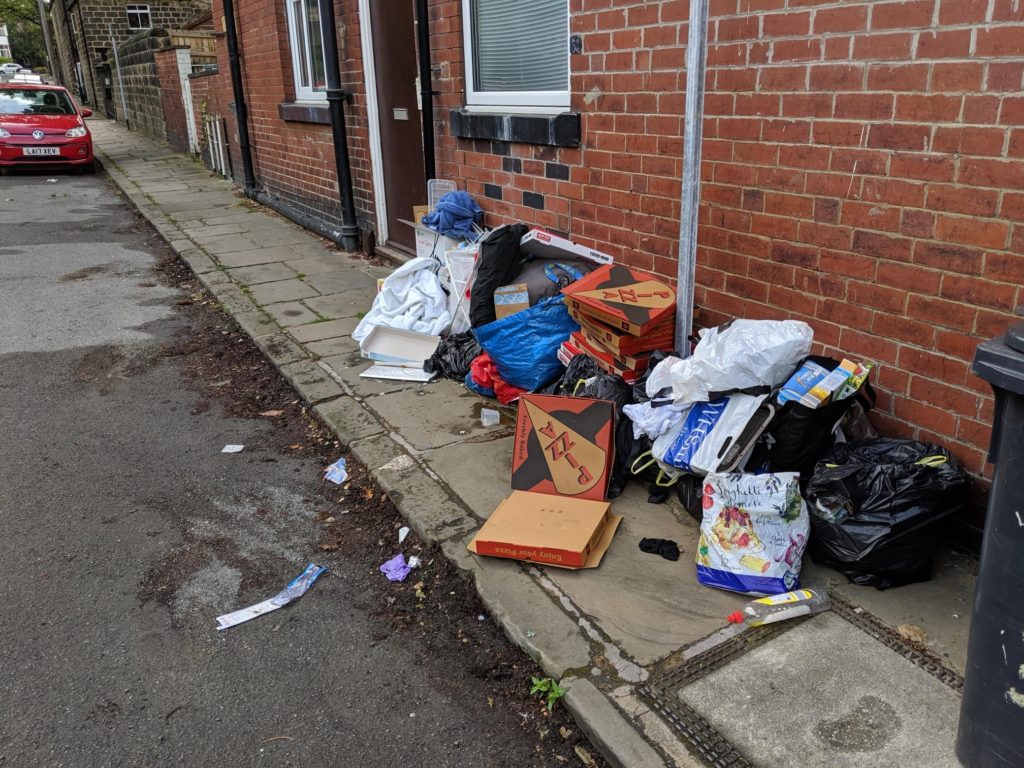 This blog post was inspired by a student house we drove past in Leeds, which shocked us so much we had to pull over and take photos of it!
Stacked up against the outside wall of the house, next to the council wheelie bins, was a mass of waste — including white goods, bin liners full of rubbish, and uncountable pizza boxes. Whatever the contents, this was fly tipping, whether it was left there by the students themselves or the landlord or letting agent after the students had left.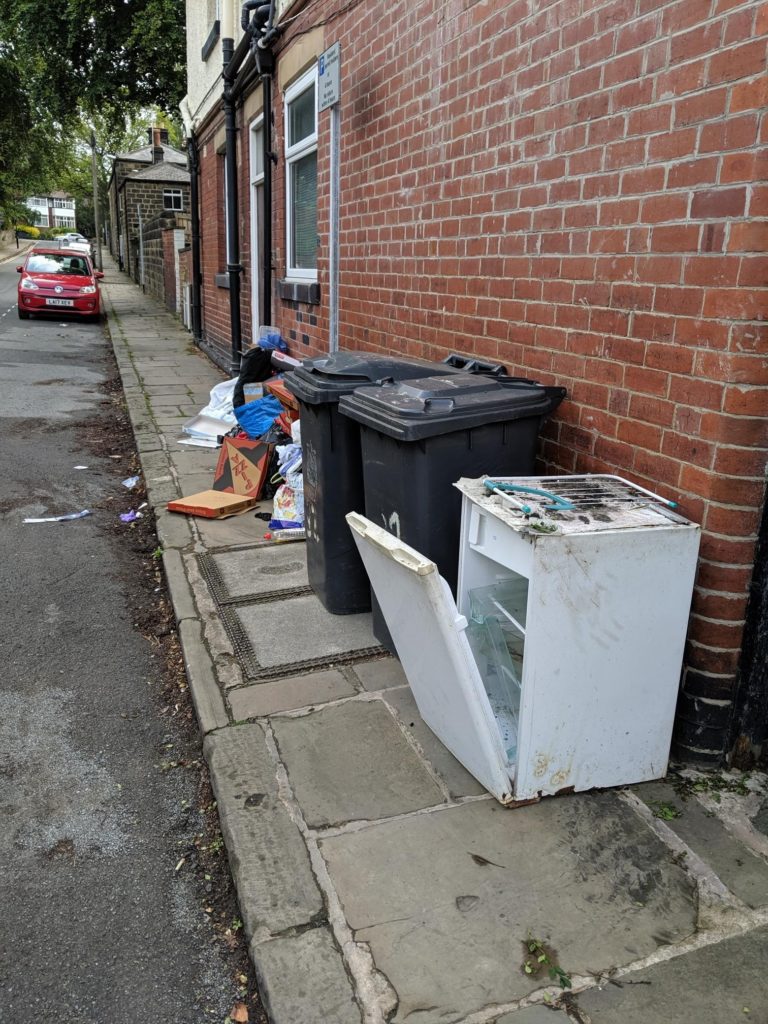 Fly tipping is illegal, and there are on-the-spot penalty fines of between £150 and £400 (depending on where you live), as well as penalties for those who are caught at a later date. Fines can be as much as £50,000, in fact!
The fine should be the least of a student's concerns, though. Fly tipping is terrible for the environment, can cause a human health hazard, and puts animals at risk. On top of this, it is disrespectful to the local community.
What to do with student waste when moving out
So, what should you do with your changeover rubbish?
Firstly, if you throw your rubbish out as and when it occurs, you won't get a build-up at the end of your tenancy.
However, if you have ended up with a lot of waste and recycling to deal with, make sure you are aware of it in advance of your moving date.
Then, decide how to dispose of it. Fit what you can of general waste and recycling into your household bins, and then you have several options for the rest.
Your university may give you some options, such as a drop-off location for donations — for example, the Leave Leeds Tidy scheme, which passes on student donations to the local community.
If you have access to a car, you could transport the rest of the rubbish to your local recycling centre before you leave. This is free.
If that's not an option for you, it's time to hire a skip or arrange for a waste clearance. As summer is a busy period for skip hire, this does need to be planned ahead, so don't leave it until the last minute.
Are you a student with some tips for fellow students on how to deal with waste? Let us know in the comments!