Litter is a big issue in the UK, with more than two million pieces of litter being dropped daily.
If you are infuriated by the litter in your local area, you might like to organise a litter pick to clear the area of rubbish and return it to its natural state.
Organising a litter pick involves a little more planning than you might expect, but don't worry — we have created this step-by-step guide for you.
Our guide includes everything you need to know to organise a successful litter pick involving five people or 500.
Choose a location
Choosing a spot won't be hard; the reason you want to organise a litter pick is probably that you keep walking, cycling or driving past an area that is inundated with rubbish.
It could be a residential street, some woodland, a towpath, farmland, or a town centre.
Check to see if there is already a local group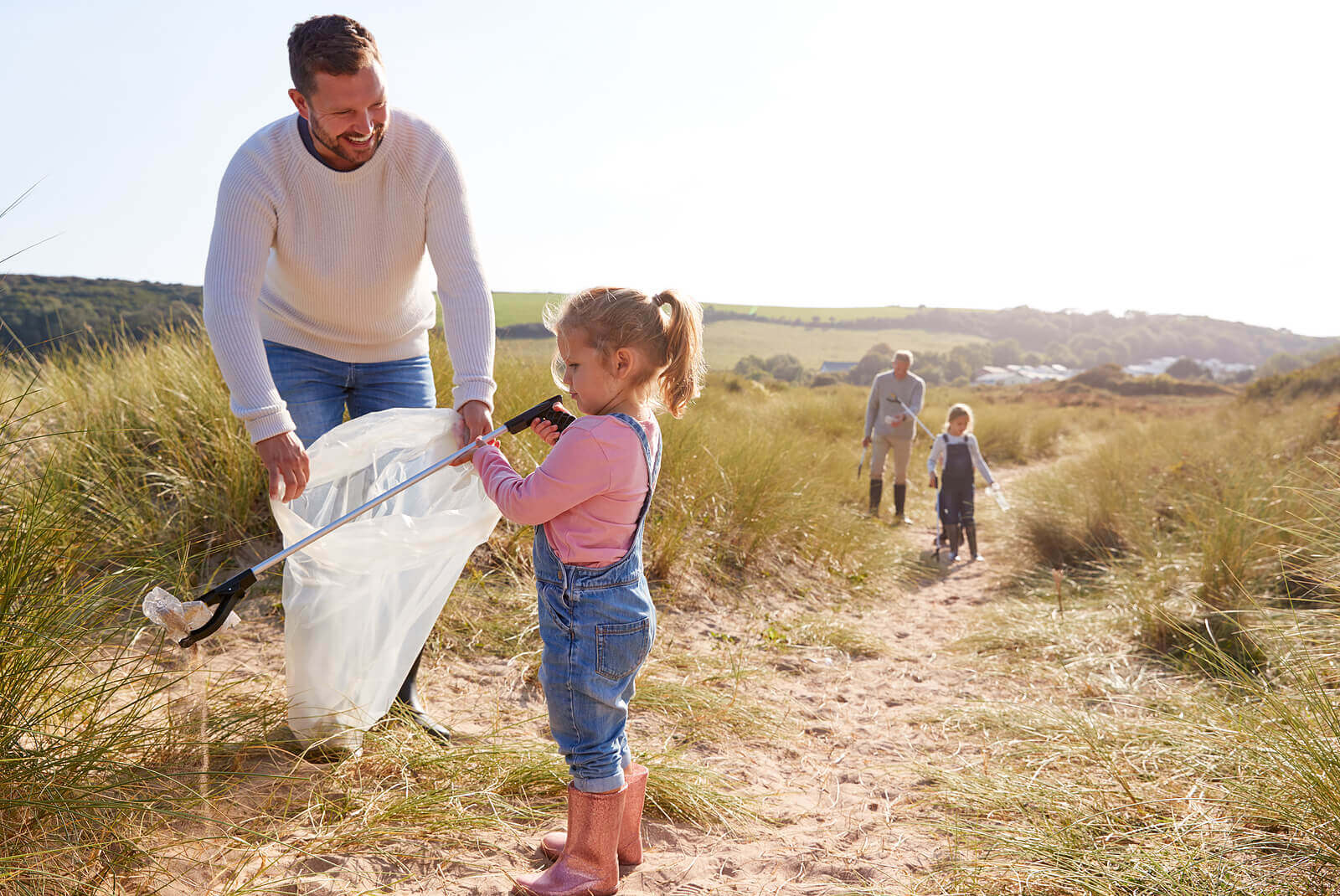 LitterAction has a handy tool that lets you search for litter picking groups in your area. You could also have a search on Facebook.
If there is a group for the area you want to litter pick, get in touch with the group leader and see if they would be interested in litter picking in the specific location you have in mind.
If so, join the group. If not, follow our guide below.
Contact the landowners
You will need to gain permission to litter pick as a group on private or public land.
How you go about this will vary depending on where you want to litter pick; you might need to contact the local council, the Canal & River Trust, a farmer or a local estate owner, for example.
If you are struggling to find out who owns the land you'd like to clear the litter from, you could try searching on the Land Registry map.
Carry out a risk assessment
Injuries and incidents can occur when groups (or individuals) are litter picking, so you should carry out a risk assessment to reduce any potential risk to participants.
LitterAction has created a great template for this type of risk assessment.
Pay special attention to bodies of water, busy roads, slippery grass banks, broken glass, giant hogweed, spikes, trip hazards, insecticides, poisons, used condoms, syringes, faeces, and so on.
Consult a health and safety expert to know exactly what to look for in your risk assessment.
Prior to your clear-up day, you can section off any concerning areas with stakes and tape and erect warning signs nearby.
While you carry out your risk assessment, a friend can make a note of your litter picking route, break areas, public toilets, and where volunteers can access first aid, etc.; you may wish to mark all of this information on a map which you can then distribute to each volunteer.
Decide on a date & rally your volunteers
Choose a date for your litter pick — we'd recommend a weekend day to maximise your volunteer numbers.
Consider setting a theme to make the event more enticing to potential volunteers or run a competition on the day, with the winner being the person who can collect the most litter in a set amount of time.
Invite people to join you — this could be friends, family, colleagues, neighbours, your local Scout or Guide group, and so on. You could put up posters in your town, where it's allowed. The more, the merrier, but even two people can make a difference, so don't feel disheartened if you can't pull a crowd.
Gather your equipment
If you live in Yorkshire, we wrote a blog post on where to source free community litter pick kits. These usually include litter pickers, bags, heavy-duty work gloves, and — sometimes — hi-vis vests.
If you are based in Wales, you can get all your equipment and insurance cover free through the Keep Wales Tidy Litter Champions scheme.
If you live elsewhere, it may be best to contact your local authority to enquire about equipment.
Arrange a waste collection
The organisation that supplies your litter picking kit (such as your local council) will often be able to pick up the bags of litter you collect or supply a skip — but always double-check and make alternative arrangements if not.
If you leave the bags of litter you have collected anywhere without authorisation, this will be seen as fly-tipping.
If you need to shift the bags yourself, talk to your local recycling centre ahead of the event or, alternatively, a waste management company.
Arrange insurance cover
It is recommended that you take out public liability insurance when organising a litter pick as this will cover you for legal liability if an incident occurs, such as injury or damage to public property.
You may be covered when litter picking for an organisation or a school, for example, but always double-check and arrange your own insurance if you aren't already covered.
Brief your team before the event
Brief your volunteers before the event.
Make sure everyone knows exactly where you are meeting, if they should bring refreshments, what they should wear, and so on.
Now is a good time for you to remind parents that all children who attend will need to be supervised by a responsible adult at all times.
Strong, comfortable boots or shoes are recommended for litter picking, alongside warm, waterproof clothing or sunhats depending on the weather.
Brief your team on the day
On the day of your litter pick, tell the entire team about:
The health and safety risks (as identified in your risk assessment) and precautions to avoid them.
How to use the equipment.
The agreed area and route. If it's a large area you are picking, allocate parts of it to pairs or groups of volunteers so they can chat while they work.
Who is carrying a first aid kit or where the first aid point is.
Where the break areas are and where is good for sheltering from bad weather.
Where the nearest toilets are.
Where the 'lost and found' area is, if you have one.
Where to place full rubbish bags.
Also, ask that a note is made on the map of where any dangerous litter is located and notify the council or landowner about it after your event.
Please note: This blog post does not constitute legal advice and is provided for general information purposes only. Please contact the appropriate authorities for legal advice before organising a litter pick to ensure you and others are safe and legally protected.
Editor's note: This blog post was originally published in January 2016 and has been updated for 2021.