Gainsborough Waste Collection, Disposal & Recycling Services
Gainsborough is a charming market town in Lincolnshire, situated to the south-west of Scunthorpe and the south-east of Doncaster.
Located on the banks of the River Trent, the town is loved by locals and visitors alike. Back in 1013, Gainsborough was the capital of England and Denmark for five weeks, and the town is also well-known for its Pilgrim history.
We provide waste management and disposal in Gainsborough to commercial and residential customers; if there is Gainsborough waste to be shifted, then we'll be there.
Whether you require waste clearance or waste collection in Gainsborough, we are your local waste management experts, and we provide custom solutions that are both budget and planet-friendly.
We are a carbon-neutral company. We proudly send zero waste to landfill, preferring to recycle all we possibly can and create energy from the waste that can't be recycled.
Commercial Waste in Gainsborough
For customers that produce commercial waste in Gainsborough, we can offer a regular hassle-free waste collection service.
We can collect all waste types, meaning we can provide a bespoke waste management service to any Gainsborough business — whether you run a restaurant, pub, bar, warehouse, factory, office, museum, or other premises.
Your custom business waste package in Gainsborough will include a selection of commercial bins unique to your situation.
Our business bins range in Gainsborough includes a general waste bin, a mixed recycling bin, a food waste bin, a paper cup bin or bag, and a glass bottle bin. We will carry out a waste audit where necessary and provide you with the perfect combination for your needs.
If you're looking to change suppliers and would like to find out how much money you could save by switching to us, get in touch today, and we'll happily carry out a free and no-obligation waste assessment for your premises.
Waste Recycling in Gainsborough
We are at the forefront of Gainsborough recycling and are proud to be pioneers regarding single-use coffee cups with our paper cup collection in Gainsborough, alongside our other services.
If you run a pub, bar, café, takeaway, restaurant, or other business that includes catering, we can provide you with a food waste collection in Gainsborough and a glass collection.
As well as glass recycling, your Gainsborough premises may require a mixed recycling wheelie bin, which can collect a wide range of materials — including paper and cardboard, plastic, and aluminium.
We can provide indoor and outdoor bins to make recycling as easy as possible for you and your staff.
Domestic Waste in Gainsborough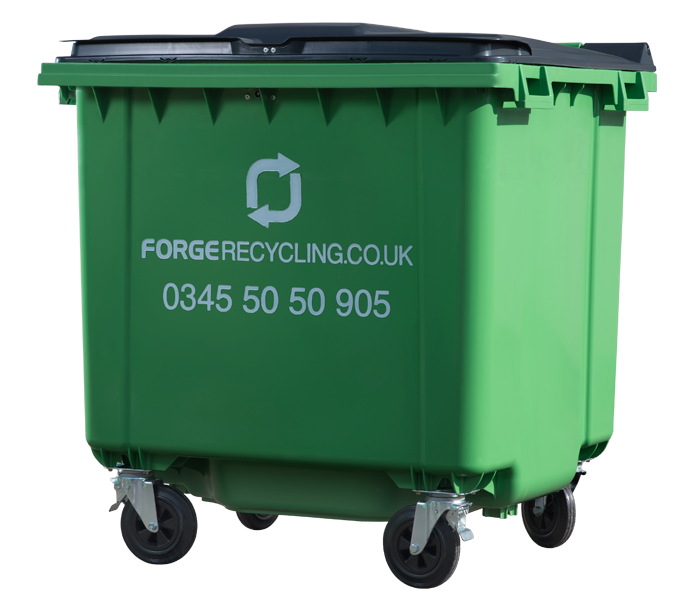 For customers that have domestic waste in Gainsborough, we offer a household waste clearance service.
Whatever your waste, we can send two team members out to lift and collect it for you. You only pay for what we collect — not a set collection fee — making it a highly cost-effective solution for your domestic waste disposal in Gainsborough.
We often collect waste from households in Gainsborough, including bags of rubbish, furniture, bulky waste, electrical waste, and garden waste.
If you need to empty a property ready for putting in on the market, we also perform full house clearances.
Get in touch below to find out more!
Areas we provide waste management to in Gainsborough:
Gainsborough Town Centre
Somerby
Morton
Beckingham
Saundby
Bole
Lea
Other nearby areas
Customer Feedback
Service used: Waste Containers
We have been using Forge recycling for a while now and in all dealings with them they have been exemplary. Daniel made the whole process very easy for us in terms of setting the arrangement up and it was all done easily and speedily, with care taken to explain all the options available to us. He also went 'over and above the call of duty' and cleared our bin store out himself to ensure that it was ready for the new bin arriving! The service throughout has been great and they increased our collections as soon as we felt there was a need to do so without any fuss. I would have no hesitation in recommending Forge recycling and am pleased to have chosen them as our recycling provider.
Client: Helen Saunders (Clarion Solicitors)
Location: Leeds
Rating: 5/5
Service used: Skip Hire
Ordered 15 skips over the past 18 months. All arrived on time and taken away on time. Very friendly service. Easy to book and pay. Drivers were accomodating and took care when placing skips, which we didn't always see with previous provider. Won't use anyone else now. Recommended.
Client: Jon Manson (Property First (Leeds) )
Location: Alwoodley, Leeds
Rating: 5/5
Service used: Commercial Waste
Happy New Year to all your hard working staff especially over the Christmas period. I'm glad to say that our waste management planning and your delivery on our collection requests worked well, and there were no issues to report. I have to say that this is a massive factor for us operationally so thank you to all. Please pass this on to all those involved.
Client: Steve Kersh (Royal Armouries (INT) Plc)
Location: Leeds - LS10 1LT
Rating: 5/5
Service used: Waste Clearance
Very polite, professional and considerate driver made getting waste cardboard out of a very tricky back-street location very easy. Will definitely use again
Client: Jon (H2k Ltd)
Location: HG1 2TG
Rating: 5/5
Service used: Commercial Waste
Been with these guys since October and have had absolutely no problems they empty bin as scheduled no problem at all. So.glad I switched to them from.previous clowns called Cheaperwaste.
Client: Sam (homeindustrycompany@gmail.com)
Location: Retord
Rating: 4/5