Harrogate Grammar School
Education
Here at Forge Recycling, we are excited to share the details of our excellent service set up for Harrogate Grammar School, which we have adapted for the school on an individual level, to make recycling and waste disposal as easy and efficient as possible on site.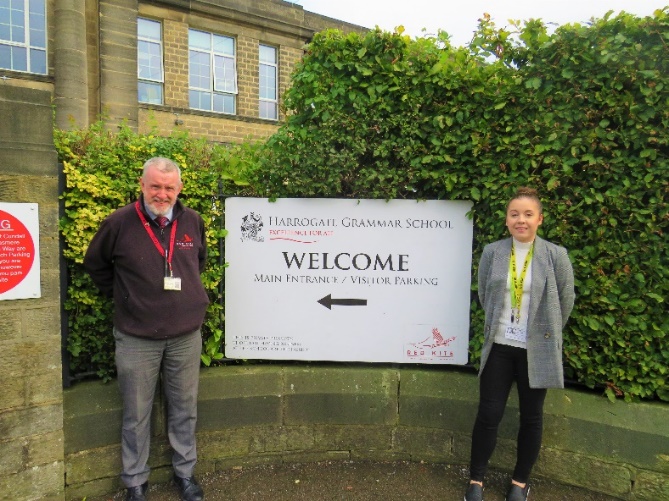 (Key Account Manager, Kiera Bourne, pictured with John Mungovin, the School's Site Manager)

About Harrogate Grammar School

The school is a co-educational academy in North Yorkshire and teaches around 1,900 pupils. Harrogate Grammar is an eco-school and has been awarded with an Eco-School Green Flag, which recognises and celebrates young people's environmental efforts.
Previous waste management on site

The school's waste was previously managed by Yorwaste, however this was transferred to Forge Recycling in 2018 so that the school could recycle more of their materials.

The Forge Recycling waste management solution
Due to great communication between our client and our team and the special attention which Forge Recycling continue to pay Harrogate Grammar School, we have been able to formulate a suitable and efficient waste management solution.
In order to meet the school's goal of increasing their levels of recycling, we introduced Food Recycling and a Card Bale service, in an addition to the General Waste service that was in place.
The six 240 Litre Food containers and fortnightly Cardboard Bale service separate an abundance of valuable, recyclable materials which would ordinarily be put into General Waste bins. This has made considerable savings for the school's budget, by offsetting the more expensive General Waste.
Environmental benefits of the service at the school
As well as being cost effective, Food Recycling is greatly beneficial for the environment. We compost Food waste locally, ensuring the waste generates renewable energy through anaerobic digestion, making the process even better than carbon neutral.
Food Recycling transforms waste into valuable compost, enhancing the growth of plants and trees, as well as reducing the levels of methane that enter the atmosphere.
Forge have also ensured that 1.4 trees have been planted over the past year, at Thrimby Pasture to offset the carbon produced in Harrogate Grammar's waste collections.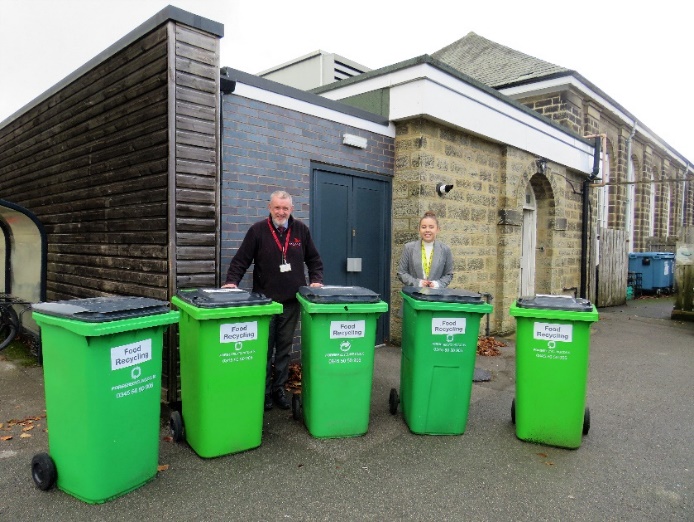 Why Harrogate Grammar School choose Forge Recycling
The school's site manager, John, has informed us here at Forge that he enjoys the ease of our waste management– organising waste management within a large school with pupils of all ages can be difficult, but this has been made easy through our solution.
Forge recycling continue to provide close Key Account management to Harrogate Grammar School and supply yearly Weight Summary Reports with Carbon Calculations to them.
Our customer is happy to know that Forge recycle extensively and all material we collect is taken to end destinations, where as much recyclable material is recovered as possible.
A word from the customer
John, the school's site manager, says
Managing waste across a large site can be difficult. In particular within a school environment segregated waste bins simply do not work effectively.
Therefore, we needed a solution that allowed for the maximum recycling possible from a simple "one bin in a room" approach. This is what Forge have provided.
The provision of Food bins, located next to our food serveries and managed by our in-house catering team, have allowed us to segregate more waste whilst again keeping simplicity at the heart of the message. This whilst actually reducing the impact on our waste management budget, improving our green credentials and reducing overall our carbon footprint.
A word from us
Kiera, the Key Account Manager says
It has been a pleasure to work with John to help the School further its Recycling journey with Forge, it's been successful so far and I am looking forward to seeing what the future of our partnership brings!